Leases and Tenancies - Webinar
Thursday 15 June 2023 5-6pm
NEW DATE
Our apologies, but due to illness this webinar has been delayed until Thursday 15 June.
Wendy Anderson and Trudy Downes discuss the responsibilities of leases and tenancies. Two sides of the same coin.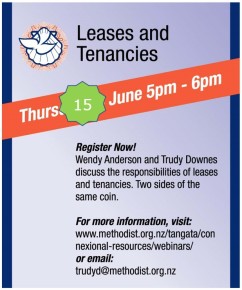 Ideal Audience: This webinar would be suitable for property stewards and property teams, parish councils and other boards' members.
Do you have a further question on this webinar?