Welcome to The Methodist Church of New Zealand Archives
Methodist Church of New Zealand Archives
National Archive of the Methodist Church of New Zealand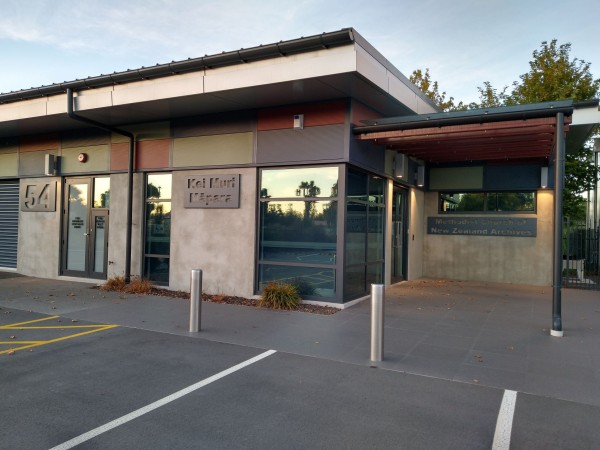 Kei Muri Māpara
What we do

About us

The Methodist Church of New Zealand Archives is the national archive for the Church. The Methodist Archives cares for and makes available records created by the church and personal papers and publications of those who worked for the Church. We also give advice to parishes on archiving their records. We make the archives available to researchers in our Research Room or answer written research enquiries.

The Team

We have two part time Archivists plus a team of volunteers who provide support and work on documenting and indexing the collection.

The Building

The Methodist Archives has its origins in the collection of historical documents compiled in 1881 to write a history of the Methodist Church in New Zealand.

We moved in 2018 to a purpose-built archive building with environmental controls within the complex of buildings in Langdons Road, Christchurch, built for the Administration Division in 2018.
In the collection you will find
Records of national Methodist Conference and national committees, ecumenical committees, departments, divisions, boards
Architectural plans and specifications of Methodist buildings and churches
Baptism registers and marriage registers (accessible up to 1920)
Parish Archives Collection for Methodist parishes throughout New Zealand except Otago and Southland. Records include minutes, correspondence, circuit schedule books, membership rolls, records of committees administering the church or parish, sports clubs, Methodist Women's Fellowship, Sunday School, Bible Class, temperance, fireside groups and choirs
Personal Papers and Historical Records Collection which includes private papers such as diaries, correspondence, sermons, historical research, ephemera
Publications Collection including the archive set of Methodist Church of New Zealand publications, newspapers, serials and newsletters, selected overseas Methodist serials and church histories
Photographs Collection containing images of people, events and church buildings
People, places and events information files
Specialist indexes only available in the Methodist Archives Research Room
Inclusive dates of collection
1817—present day
Finding aids
Inventories of the Archives Collection are available on the Methodist Church website:
Contact Archivist, Methodist Church of New Zealand Archives
Visit Kei Muri Māpara, 54 Langdons Road, Christchurch 8053, New Zealand
Postal PO Box 931, Christchurch 8140, New Zealand or Weteriana House
Courier 50 Langdons Road, Christchurch 8053
Telephone (03) 366 6049 ext 845
Email [E-Mail not displayed]
Web http://www.methodist.org.nz/archives
Hours By prior appointment only. Closed weekends, public holidays, Christmas—New Year and Easter Tuesday
Charges No charge for access during office working hours, but charges for purchasing copies or for Archives staff undertaking research on your behalf.
For more details of charges, please see Research fees and charges
Parking Car parking available in front of 50 Langdons Road