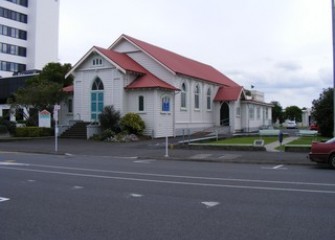 In central Hamilton, St Paul's Methodist Church in London Street, bears proud testament to the faith of early Methodists and until 2012 remained a centre for worship in the 21st century.
The District has its roots in Maori Mission work from the 1830s on. The work, begun by the Revs Woon, Whiteley and Wallis and Maori evangelists such as Wiremu Neera, stretched from Port Waikato to Mokau and inland to the Waipa River.
After the land wars of the 1860s, Waikato Methodism shifted its focus to founding and developing congregations among the colonial settlers. One of the pioneer ministers of this early period in the Waikato was Rev Joseph Berry, appointed to the Waikato in 1867.
The first churches in the District were built in Hamilton, Cambridge, Pukerimu and Te Awamutu. The Thames goldfields were opened in 1867 and, by 1870, Thames became a separate circuit.
For many years the Waikato-Bay of Plenty was called the South Auckland District. It extended from Taumarunui in the south to Huntly in the north, Raglan in the west to Opotiki in the east. The boundary of the District as it is at present was decided by Methodist Conference in 1963. The District name was changed from South Auckland (with the Rev Bill Laws as the last Chairman) to Waikato-Bay of Plenty District, with the Rev Roy Jamieson MBE, E.D., minister at Te Aroha, as the first District Chairman; the Secretary was the Rev Robert H Allen B.A. (Tauranga) and the Financial Secretary was S V Leach.
In the same year (1963), the Women's Guild Fellowship and the Women's Missionary Fellowship were combined to form the Methodist Women's Fellowship.
The District is now known as Waikato-Waiariki, and contains some 33 parishes and about 50 regular Sunday congregations. Only 7 of the parishes in the District remain Methodist, the other 26 are Union or Cooperating parishes with Methodist as well as Presbyterian/Anglican/Church of Christ/ Congregational membership.
Most individual parishes and congregations in the Distict have published their own histories. Nearly all of these are held in Archives, c/o Methodist Centre, 62 London St, Hamilton, or the national MCNZ Archives in Auckland, Private Bag 11903, Ellerslie, Auckland 1542 (409 Great South Rd, Penrose, Auckland 1061, phone 09-5254179)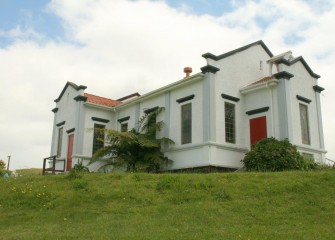 On the eastern shores of the Waikato District, Kawhia Methodist Church sits on a hilltop overlooking the surrounding town. Kawhia was the site of one of the earliest mission outreaches in the 19th century.